Hospitality, Boating
US Premiere of the 80 Sunreef Power Eco, the world's most advanced electric luxury yacht
02.11.2023 - 06:03:23
US Premiere of the 80 Sunreef Power Eco, the world's most advanced electric luxury yacht. - World most advanced electric luxury catamaran thanks to in-house developed green technology
- Revolutionary ultra slim "solar skin" build into the yachts hull
- Custom-engineered super light battery banks and biggest battery bank in the category of leisure crafts
- Custom-tailored in-house designed layout accommodating eight guests in the utmost of luxury
FORT LAUDERDALE, FL, Oct 31, 2023 - (ACN Newswire) - The 80 Sunreef Power Eco made her official US debut at the Fort Lauderdale International Boat Show 2023. With a strong focus on eco-responsible yachting, Sunreef Yachts Eco presented the world's most advanced electric luxury yacht at the world's biggest in-water marine event, October 25-29.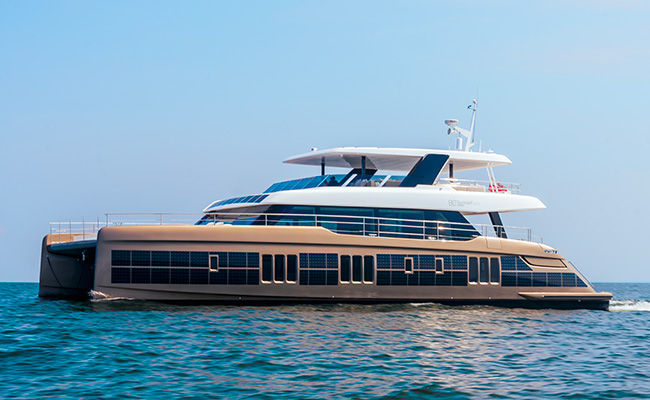 Using Sunreef Yachts in-house developed green technology, the 80 Sunreef Power Eco Soil features composite-integrated solar panels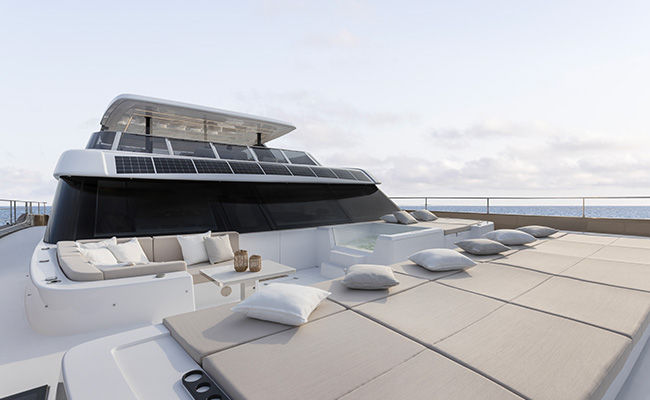 SOLs guests enjoy plenty of relaxation space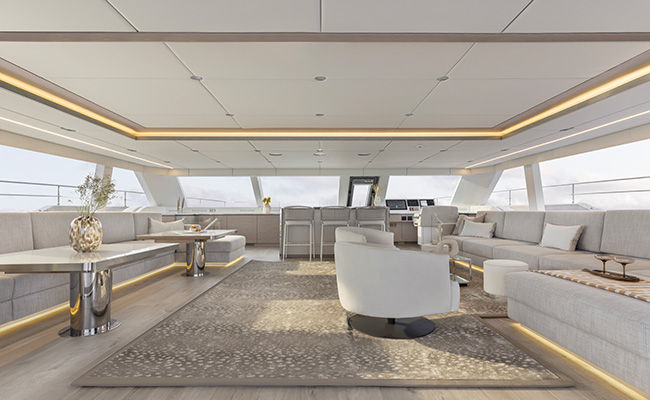 The 4-cabin luxury catamaran features a custom-tailored layout accommodating eight guests in the utmost of luxury
Named after the Norse sun goddess, the 80 Sunreef Power Sol is an electric luxury catamaran using Sunreef Yachts' revolutionary solar power system and state of the art electric propulsion. Commissioned by an experienced family of yacht owners, this exclusive solar yacht combines long private cruises with sustainable luxury charters.
Solar Power Reinvented
Using Sunreef Yachts' in-house developed green technology, the 80 Sunreef Power Eco Sol features composite-integrated solar panels, seamlessly built into the yacht's hulls, bimini roof an superstructure. The ultra-thin "solar skin" consists of the industry's most efficient cells and is one of the lightest photovoltaic systems in the world. Covering 200m2(2 150 sq ft) the system delivers 36kWp for a steady supply of clean power on board.
The Biggest Battery Bank
Sunreef Yachts Eco catamarans feature custom-engineered battery banks. With a density less than 5.2 kg per kWh, Sunreef Yachts Eco batteries are close to 30% lighter than the average systems commonly used in the yachting world. Boasting a 990kWh battery system, Sol has the biggest battery bank in the category of leisure crafts up to 24m. Powering all the amenities on board as well as the twin 360kW engines, the batteries allow for up to 300 nautical miles of e-motoring in complete silence, with no fumes and no vibration. With an energy-saving air conditioning system and smart energy management, this electric yacht sets new standards for eco-cruising.
All About Comfort
The 4-cabin luxury catamaran features a custom-tailored layout accommodating eight guests in the utmost of luxury. SoL's interiors are relaxing, with plenty of natural light and bright finishing materials. The main saloon boasts impressive lounging space and a wet bar. It also opens onto the aft cockpit and bow terrace, where guests can enjoy a spa pool.
Sol's aft cockpit is an amazing dining and lounging area with spectacular ocean views. Well protected from sunlight and wind, it also features a large day bed.
From the cockpit, guests can easily access the catamaran's aft platform, jet ski and water toys. Up on the flybridge, SoL's guests enjoy plenty of relaxation space with a large c-shaped dining area, a bar and oversized sunpads.
SPECIFICATION
Length overall 23.8 m / 78.6 ft
Maximum beam 12 m / 39.4 ft
Solar panels 36 kWp
Engines 2x 360 kW
Battery bank 990 kWh
Living space 356 m2 / 3831 ft2
Category A
Construction Composite
Naval architecture Sunreef Yachts
Interior design Sunreef Yachts
About Sunreef Yachts
Established in the port city of Gdansk, Poland and Ras Al Khaimah in the UAE by French businessman Francis Lapp, Sunreef Yachts is a pioneering shipyard specializing in the design and construction of fully-customized eco-responsible catamarans and multihull superyachts.
Innovation, sustainability and excellent craft are the very core of the Sunreef Yachts brand. The shipyard's family of customers includes superstar athlete Rafael Nadal as well as Formula 1 champions Fernando Alonso and Nico Rosberg among a vast clientele across the globe.
The Sunreef Yachts Eco range is a line of eco-responsible sailing and power luxury catamarans. The shipyard combines electric propulsion, smart energy management, ultramodern solar panels and ethically-sourced finishing materials for a responsible yachting experience.
PRESS OFFICE / SAND PEOPLE COMMUNICATION
sandpeoplecommunication.com
Ursula Brzoska
sunreef@sandpeoplecommunication.com
M. +39 333 3992874
Source: Sunreef Yachts
Copyright 2023 ACN Newswire . All rights reserved.