HKTDC Hong Kong International Optical Fair opens today. Eyewear trends are in focus while industry elites will gather at the Optometric Symposium
HONG KONG, Nov 8, 2023 - (ACN Newswire) - Organised by the Hong Kong Trade Development Council (HKTDC) and co-organised by the Hong Kong Optical Manufacturers Association (HKOMA), the 31st edition of the HKTDC Hong Kong International Optical Fair returns, bringing together 700 exhibitors from 11 countries and regions. The physical exhibition will run at the Hong Kong Convention and Exhibition Centre (HKCEC) for three days from today (8 to 10 November). Under the EXHIBITION+ integrated mode, the online exhibition will continue until 17 November, providing a global business platform for the optical industry.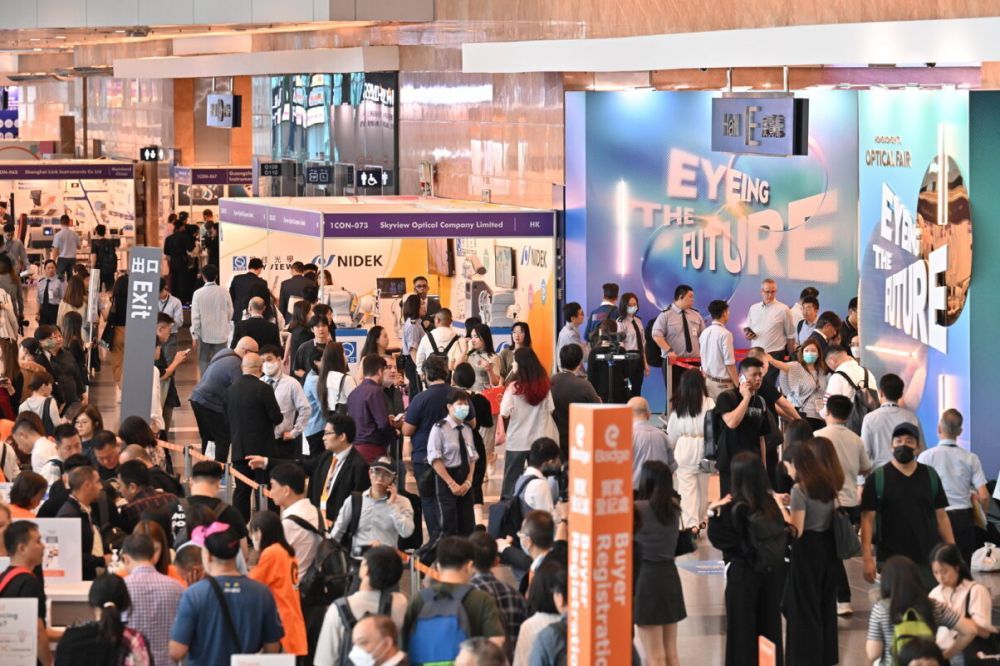 The 31st edition of the HKTDC Hong Kong International Optical Fair opened today. 700 exhibitors from 11 countries and regions display the latest trendy designs and comprehensive eyewear products.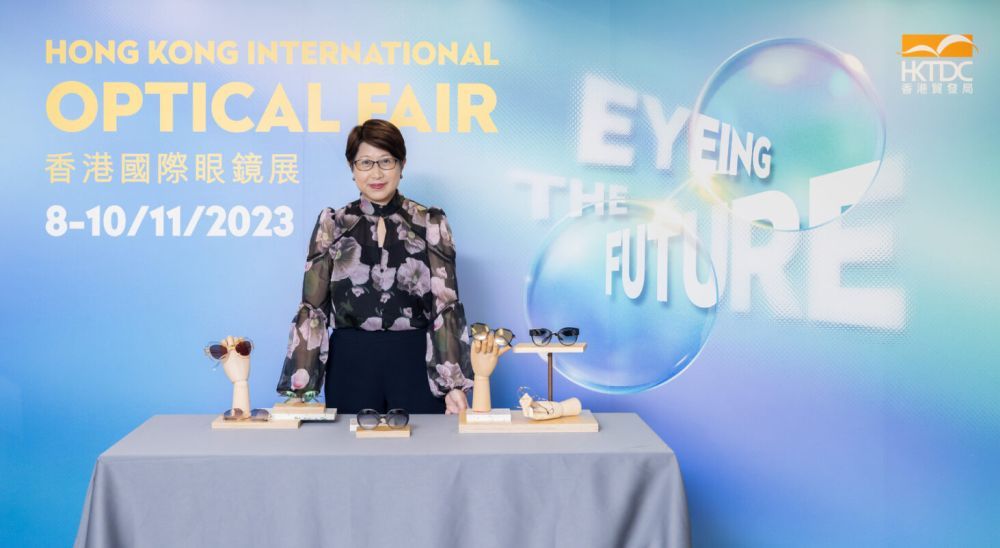 HKTDC Deputy Executive Director Sophia Chong said: "The Hong Kong International Optical Fair has always been committed to providing a multi-faceted, one-stop sourcing platform for exhibitors and buyers and the HKTDC expected the industry to create business opportunities through both the physical exhibition and online platform."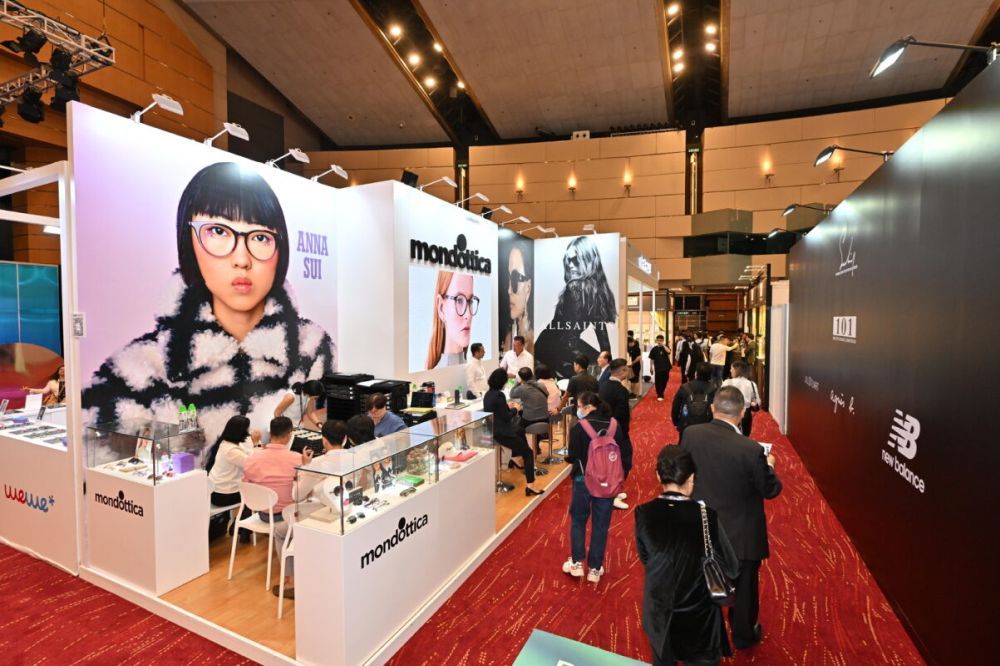 The Brand Name Gallery brings together more than 200 internationally renowned brands, including Anna Sui, which showcases its sunglasses series.
HKTDC Deputy Executive Director Sophia Chong said: "The total export value of Hong Kong's spectacles, lenses and spectacle frames was valued at HK$19.1 billion (US$2.44 billion) in 2022 and Hong Kong is a major production and export location for the global eyewear industry. The total export value in the first nine months of this year exceeded HK$14.8 billion (US$1.9 billion), representing a 3% increase compared with the same period last year."
She noted that "E-commerce became the focus of attention during the COVID outbreak. Optical chain stores, brands and designers have turned their attention to e-commerce and social media marketing to develop local and overseas markets." The online-to-offline (O2O) marketing model continued to flourish even after the outbreak subsided. The Hong Kong International Optical Fair has always been committed to providing a multi-faceted, one-stop sourcing platform for exhibitors and buyers and the HKTDC expected the industry to create business opportunities through both the physical exhibition and online platform.
Smart eyewear zone debuts to display new technology
This year's Optical Fair features a number of regional pavilions, including Mainland China, Taiwan, Italy, Japan and Korea, as well as the Visionaries of Style and HKOMA Pavilion; along with pavilions from cities in Mainland China, including Yingtan (Jiangxi), Danyang (Jiangsu), Shenzhen (Guangdong) and Chongqing. Smart technology applications are impacting all industries and the eyewear industry is no exception. The Smart Eyewear zone debuts to focus on new eyewear-related technologies and services. Hong Kong exhibitor Solos Technology Limited (Booth: GH-B38) demonstrates AirGo(TM) 3 smart eyewear that combines ChatGPT and wearable technology. In the Frames, Lenses and Parts zone, exhibitor South China Optical Industries Co. (Booth: 1E-A08) brings spectacle frames made of highly elastic memory metal. Other thematic zones will feature Sports and Professional Eyewear, Shop Fittings and Equipment, Contact Lenses, Diagnostic Instruments, Eyewear Accessories, Optometric Instruments, Designer Cafe and more.
Showcase for internationally renowned brands
The Brand Name Gallery, the focal point of the fair, features 200 world-renowned brands this year, including Mainland China's A.Society, Hong Kong's Absolute Vintage Eyewear, bTd, Taiwan's CLASSICO, PARIM, agnes b and MINIMA from France; Anna Sui, Jill Stuart, New Balance and VOY from the United States; Ted Baker and Vivienne Westwood from the United Kingdom, Germany's STEPPER, Japan's Masaki Matsushima, Matsuda, MIZ Gold and TiDOU, Korea's GENSDUMONDE, PLUME PEOPLE LUV ME, , and more.
Featured eyewear includes:
- Four new eyewear models from Italian eyewear brand SPECTAFUL, which combine the brand's iconic angular design with vibrant colours (Booth: GH-C32)
- Italian eyewear brand GIANNINI launches stylish sunglasses with a unique frame design that increases the brightness and two-colour effect of the glasses (Booth: GH-C33)
- Luxembourg luxury craft eyewear brand: Gold & Wood's 18K solid gold eyewear (Booth: GH-C12)
- Korean Pavilion exhibitors brought the brand Rayfog's semi-permanent high-strength anti-fog coating optical lenses (Booth: 1C-F15)
- Mainland China brand A. Society launched unisex sunglasses with local artist Lousy (Booth: GH-A08)
- Local eyewear brand BIG HORN won the 2023 London Design Awards for its sunglass series (Booth: 1D-G02)
The fair will feature several Brand Name Gallery eyewear parades where professional models present eyewear collections from trendsetting brands. Finalists and winners in the 23rd Hong Kong Eyewear Design Competition will be displayed in Hall 1D, giving a glimpse of the creativity and style of Hong Kong's new eyewear designers. The Award Presentation Ceremony will be held today (8 November) in the afternoon, when competition results will be announced and prizes awarded.
Global industry representatives attend Optometric Symposium
The 21st Hong Kong International Optometric Symposium will be held tomorrow (9 November), themed Empowering Community Eye Care through Artificial Intelligence and Telemedicine in Optometry. Dr Simon Tang, Director of Cluster Services of the Hospital Authority, will deliver the opening speech. Industry experts from around the world, including Dr Kate Taylor from Australia, Prof Mingguang He and Prof Benny Zee from Hong Kong, Elvis Wang from Mainland China, Dr Priya Morjaria from the United Kingdom and Dr Patrick D Yoshinaga from the United States, will discuss Artificial Intelligence (AI) and teletherapy and how these can be applied to community eye care. The symposium is a pre-approved CPD Programme recognised by the Optometrists Board, Hong Kong. Attendees will be given Certificate of Attendance for a maximum 6 CPD hours.
Other sessions include the seminar Market Talk: Road Ahead for Eyewear Industry, where industry experts will forecast fashion trends and discuss sustainability elements in the United States eyewear sector. Speakers will also explore the latest market prospects and potential of smart glasses and other issues. At the seminar Revolutionising Eyewear Design: Exploring 3D Technologies, Innovations and Material Trends, industry experts will give a detailed breakdown of the latest trends in eyewear 3D printing technology, innovative design concepts and materials.
Latest Development of Standardization for Optometry in Mainland China will be held the day after tomorrow (10 November). Experts will explain the latest technical specifications and testing guidelines for myopia prevention and control glasses, lenses, smart glasses and other optometry products for teenagers in Mainland China, allowing industry insiders to grasp developments in the optometry product market.
Photo download: https://bit.ly/47lbu7b
Media enquiries
Please contact the HKTDC's Communication and Public Affairs Department:
Frankie Leung, Tel: (852) 2584 4298, Email: frankie.cy.leung@hktdc.org
Phyllis Tsang, Tel: (852) 2584 4288, Email: phyllis.km.tsang@hktdc.org
About HKTDC
The Hong Kong Trade Development Council (HKTDC) is a statutory body established in 1966 to promote, assist and develop Hong Kong's trade. With 50 offices globally, including 13 in Mainland China, the HKTDC promotes Hong Kong as a two-way global investment and business hub. The HKTDC organises international exhibitions, conferences and business missions to create business opportunities for companies, particularly small and medium-sized enterprises (SMEs), in the mainland and international markets. The HKTDC also provides up-to-date market insights and product information via research reports and digital news channels. For more information, please visit: www.hktdc.com/aboutus. Follow us on Twitter @hktdc and LinkedIn
Source: HKTDC
Copyright 2023 ACN Newswire . All rights reserved.